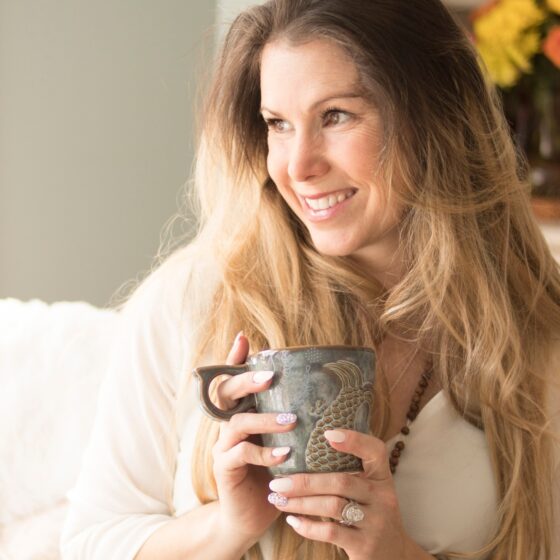 Tara is a business Mentor, Leader, CEO & founder of Worth Camp™ a transformational women's program.  She is also the creator behind The Witch + The Wick Candle Co.
A leader in self-worth and Divine Feminine Frequency.  She's trailblazing a path for the next generation of what it looks like to be a  powerful feminine leader.
Her one of a kind DFF (Divine Feminine Frequency) Trifecta teachings help women unleash their fullest potential.  Connecting them to their power, creativity and self-worth. Utilizing the power of Astrology, Quantum Human Design™ and the Venus Star Point® with a focus on the planet Venus, this combination is designed to align women with their magnetism, intuition and path in this lifetime.
Guiding women into their heart-centred purpose and work in the world.
Tara is a mama, wife and multi-faceted entrepreneur with over 20 years of leadership experience.  She is a published author and recording artist.

I'm Tara, and I'm so grateful you're here.  As someone who is completely "UnBoxable" trying to fit all the things I've done and accomplished (triumphs & failures) into a 140 character bio is literally impossible.  
So if you're curious about how I've gotten here stay with me while I take you on a journey of the last few years.  This way you'll have a better understanding of who I am and the ever evolving life of an entrepreneur.  I am a woman who's always done things differently, following the rules and playing the game hasn't been my thing.  I learned early on to trust in myself and my intuition, to lead me exactly where I was meant to be.
As a 5/1 Splenic Manifestor, learning about + integrating my own Human Design has been an absolute game changer.  Then adding the layer of Astrology Sagittarius Sun, Scorpio Moon and Libra also my natal Venus is in Aquarius and topping it all off with being a Gemini VSP.  
I know I'm here to march to the beat of my own drum and lead those who are ready to lead themselves into the magic of their own Divine Feminine Frequency.
Here we go…
This past couple years has been a real whirlwind of wicked and wild energies from all angles. It has been an extremely unsettling time for all of us on so many levels. There have been many moments since the later half of 2019 where I just couldn't see what was next or how I wanted to show up for myself, my family, my friends or my clients.
from 2012-2017 I owned and operated a very successful SUP Yoga + Yoga Studio in Muskoka.  It consumed all of my energy running classes, retreats, coaching and private events.  I eventually burned myself out and got extremely sick leading to the closure of my six figure business.
In April 2016 while the studio was winding down and I was healing, I began working on the next thing which was The Soul Flow™.  I purchased a van turned it into a camper van hit the road for 30 days and interviewed women across the country.  They shared with me stories of courage and overcoming life's biggest obstacles to live out their dream lives.  I wanted to find more of my own feminine essence. I ran a successful kickstarter campaign raised over $10,000 and wrote a book sharing my journey and all the interviews.
In October 2016 I found out I was pregnant at 40 with my son.  Life took a very unexpected turn and all my attention went into preparing myself to become a mother.  Once he arrived, I closed the studio, put the book on the back burner and immersed myself in motherhood.
In that immersion I realized my self-worth was very attached to my work in the world and to feel fulfilled in myself I needed to be creating.  Not in the old way but doing something new and completely different.  I had expended my feminine frequency and it was time to really focus on self-worth, self-love and empowerment.
I started the "Badass Mamas" in 2018 because I knew my work was with women. Self-worth was always at the core of the programs, retreats & experiences I had been running.  It was always the women who showed up to share their hearts, their dreams and deepest desires. The women who have always come to me are women who aren't afraid to be vulnerable, know they're meant for more, they have big dreams & goals and are ready to do whatever it takes to create the life of their dreams – no matter what!
In 2019, my business took off and I found myself crushing so many goals at lighting speed. I transformed the Badass Mamas brand into Radiantly Transformed with a deeper focus on holistic health/ wellness (mental, physical, emotional, spiritual & energetic). I started a podcast, created amazing courses and hosted epic live events. I also competed in my first ever fitness competition in the transformation category and won! I was on top of the world until I stepped off that stage. Something shifted so deeply inside of me, I still can't put words to what happened.
I got an electrifying download of inspiration to put my focus and attention on a Woman's worth. What it meant to feel worthy. Because, I now had the body I had always dreamed of and I still didn't feel worthy of it. Even though, I consciously lost weight utilizing all the tools I knew could support my emotions, physicality and mindset. They weren't enough, I wasn't enough.
So, Radiantly Transformed became The Worthy Woman Collective! A global community dedicated to the growth and expansion of self-worth because I knew I needed to up level my own self-worth. Every single time I create something that I need to work on for myself the women who need the same thing show up. It grew fast and there were more courses, I rebranded the podcast and created even more fabulous events.
It was during that time that I became deeply immersed in my studies of Human Design™, Astrology and the Venus Star Point®. I also started expanding my business to include private readings, all while simultaneously continuing to run events, courses and being the best mama I could be.
Then Covid hit in March 2020, I had my Uranus Opposition July 2020 (mid life crisis) and things started to get really weird, Uranus tends to do that – shake us out of our shells. It prompted a new path for me my natal Uranus T-squares my Venus and Saturn so I created a new business.  That's when Witchin' Wicks was born which has now evolved into The Witch + The Wick Candle Co.  it was the baby iteration of my candle co but it helped me navigate the crazy that was to come.
I was pushing all my limits because my Jupiter and Mars know no bounds when they're on a mission to transform the world.  So, Saturn swiftly stepped in to knock some sense into me with a concussion in April 2021 just as I was gearing up to launch my first Worth Camp™. My signature program I'd been working on for 2 years prior.
The concussion forced me to slow down, for all of five minutes. Then my husband got an opportunity to move us cross country to a remote island off Newfoundland and I said yes. What a great idea! Within 6 weeks we sold most of our possessions, packed up two trailers full of our last worldly possessions, sold our house and drove across the country. June 2021 we arrived safely (thank you angels) and remained shell shocked for at least 6 months.
What I've learned since that move is that I need way less than I think I do to survive, navigating relationships under pressure requires you to really be in your worth and living somewhere so remote forces you to transform everything you've been avoiding!
It has gifted me with new vision, refreshed purpose and the ability to know what needs to be healed in myself and the women I serve. My studies have lead me right to the heart of what women need to be in their worth.
Venus is our key. She's always leading me back to myself and reminding me of my greatness. She has shown me how to find ways to do all the important things far more creatively and in less time, than I could have ever imagined possible.
I play more, love more, cry more and feel more alive than I've felt in years. That's her ultimate gift to us, she's leading us back into our hearts to see our own potentiality. To fully embody our own Divine Feminine Frequency.
She lead me to create all kinds of exciting new things in 2022 I've gone deep into The Witch + Wick Candle Co. birthing an entirely new line of Zodiac candles called The Celestial Collection which I can't keep on the shelves!  I've created, launched and sold The Celestial Box the very first of it's kind. and as if that wasn't enough I've added pottery to the mix and created custom tea light holders.  All while holding the fort down, running programs, doing readings and reaching for the stars.
I believe as we move into 2023 it is our time to live life on our own terms.  To do things in a brand new way.  To create enormous wealth in the hands of women, so that they can take care of the people in their lives in an empowered and highly creative way.  It is a time for us to be able to choose from our hearts desire, not based on what "makes sense" or is less worthy of the women we've become.
Over the last 3 years so much has changed.
I've changed.
You've changed.
We've changed.
Aligning with my Divine Feminine Frequency has completely changed who I am and who I'm becoming.  I can't wait to continue leading those women who are ready to lead + trust in themselves.
2023 is the year everything shifts into co-creating and ultimate creativity. 
If you want a reading go HERE, join The DFF go HERE + if you're looking to join a live program go HERE.
I look forward to connecting and supporting you on your magical journey of becoming.
T xo
PS. If you want to start learning and leaning into your natal Venus placement grab my FREE guide that will help you begin unlocking your own DFF (Divine Feminine Frequency).