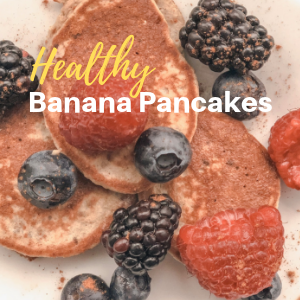 This breakfast banana pancake is an absolute favourite in our household and so easy to make!
It's usually our Friday morning date breakfast and he will usually eat about 8 of them.  We also add blueberries and don't use syrup he doesn't seem to care.  Less sugar the better so we add fresh fruit for the garnish.
Here's to berries flying around your house too 🙂
We hope you love it and can't wait to see your pictures.
Recipe:
1/4 cup rolled oats
2 tbsp Baby Gourmet – ancient grain blend (skip it if you don't have it) or use a plant based protein powder.
1/2 ripe banana
1 tbsp ground flax seed
1 tsp chia seeds
1 whole egg
pinch of cinnamon 
use a small food processor to mix.  Warm up frying pan with olive oil or butter.  
Then spoon small amounts into warmed pan + add blueberries, chocolate chips or raspberries for extra flavour.
Thats it!
PS.  He's been enjoying this recipe since he was 10 mos at the moment he's almost 5 and still loves them.