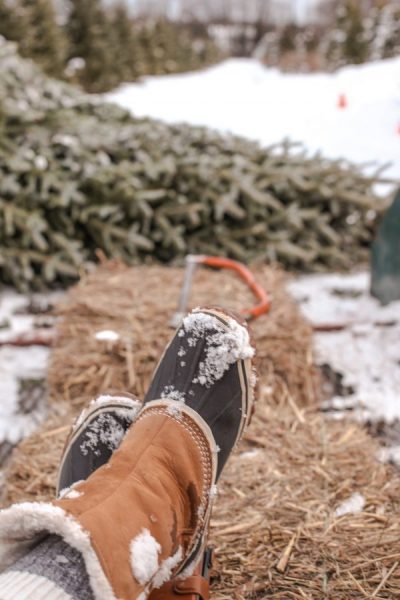 BEFORE YOU PUT YOUR FEET UP

🎄
And close out your year I wanted to share this idea with you on Vulnerability because it's also the message of my latest podcast episode. https://anchor.fm/…/Episode-17-The-Power-of-Vulnerability-e…
But what does VULNERABILITY mean?
According to Webster's Dictionary, it suggests that:
vul·ner·a·bil·i·ty
noun: vulnerability; plural noun: vulnerabilities
the quality or state of being exposed to the possibility of being attacked or harmed, either physically or emotionally.
Well it's no wonder no one wants to be vulnerable. Especially in today's landscape of driving, forcing and pushing for things to happen.
It's down right terrifying to open up and be vulnerable.
To let down the guard and take off the mask of protection.
For fear of looking weak, looking like we don't have it all together, like we might not be the best mom, wife, daughter, sister or friend we should be.
We're heading into a very powerful time.
That's going to require some of us to get vulnerable and to expose ourselves into the light of the truth. And it's going to be MAGICAL!
There is such radiance in dropping the mask.
We can't hide anymore.
Because there will be nothing left to hide from.

When you get real, raw and vulnerable you see things for what they are. If you are ready to start co-creating your most radiant life here's what is going to need to happen.
You'll need to take this last couple weeks of December to look back on 2019. 

To see where you were brilliant, see where you flopped and take a long hard look at what you didn't even try for fear of not getting it right. Because this is the last time you are going to do that for yourself.
Let 2020 be the year you become the visionary in your own life.
The year you honour yourself and your WORTH!

Give yourself the gift this Christmas of taking charge of your radiant life. Get back into the drivers seat and start pulling back all the fragmented pieces until you become whole again.
As you start honouring your word, you up your energy and return your power.
This is the podcast episode that will prime you for the transformative content coming your way this December on the Radiantly Transformed Podcast.
PS. Did you get your FREE No Bull Sh!t Manifesting Guidebook yet? Get it here https://tarakinden.mykajabi.com/pl/129389