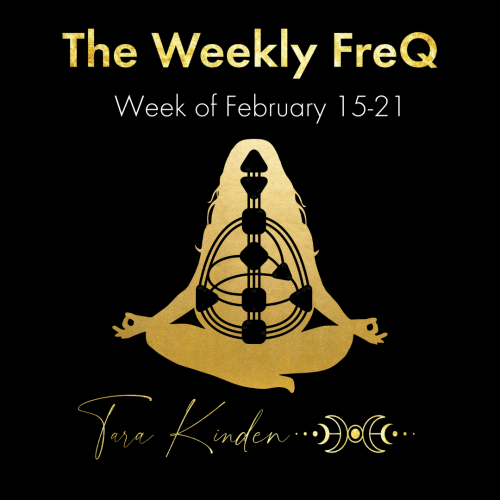 The Weekly FreQ 
For the week of February 15th – 21st
The Sun is in Gate 30 – Passion until the 19th then moves into the Gate 55 – Faith. So we will find ourselves playing between these two juicy energies this week.  Becoming conscious of your bigger vision and finding ways to sustain your dream vision until you're able to bring it into physical form.  Fuel your passions don't be afraid to dream, no need to rush it or push it forward trying to "make it happen" or you could burn yourself out. Get yourself tuned into the emotional frequency of love, joy & the faith that its all going to work out in divine right time.  Create without limitation through trusting in yourself and your alignment with clean + clear emotional frequency.
The Earth is in Gate 29 – Devotion until the 19th, then moves into the Gate 59 – Sustainability.   What do you really want?  What are you ready to commit yourself to?  Choose something that you are deeply passionate about.  Choose from your hearts desire.  Its the only way you'll be able to preserver and stay determined while on the journey towards your goal. Commit yourself to what feels right.  Can you stay in the energy of your chief aim? If so, everything you desire will start to find you.  Get the process super charged by learning how to collaborate with others who have a similar vision of what's possible. This helps you become energetically sustainable, you won't need to fight or struggle to get what you want you'll open yourself and others up to enjoy the unlimited supply of abundance to flow in.
Mercury is in Gate 19 – Attunement have beautiful conversations from what you're sensing.  Sensing in your homes, communities and the world.  You'll know intuitively what people are needing (if you trust yourself) remember Mercury is in retrograde until February 20th so be very clear about what you are capable of doing for others.  Say what you mean, mean what you say.  Watch over giving and over nurturing.  It's not sustainable energetically for you to give, give, give.  You must also communicate to others what you need and then allow yourself to receive!
Venus is in Gate 13 – Narrative, I love this gate and I also love that it's in Venus until the 17th.  Take time to be very clear about the story you are sharing with the world about yourself.  Use the power of your words to re-write the story if it no longer suits or start to embody the story you're living and loving so that it inspires others to do the same.  On the 17th Venus moves into  Gate 49 – The Catalyst,  here my friends is where we do that check in on our value + worth.  Are you seeing just how valuable, important and worthy you are?  If YES then get down with your bad self.  If NOT then its time to realign!  You are here for a reason, how do you want the world to experience you and your beautiful energy?  Under the 49 we can transform our view of who we are and step into the new version without any resistance.  So who would you like to become?
Mars is in Gate 23 – Transmission, you've got some juicy new ideas rolling around in that beautiful head of yours.  Well it's time to share them with the world and help those ready to listen, see a new way of evolving an old pattern.  The key here is to trust in yourself.  Tune in and have enough self awareness to know when the time is right to share your wisdom.  Following strategy is key here.  Remember you are always tapped right into the source the insights you're feeling called to share are right on the money.
Jupiter is in Gate 13 – Narrative, showing up again reminding us to be aways of the story we are sharing with the world about ourselves.  Jupiter brings us expansion.  Where are you still playing too small?  Are you ready to explore what transforming your identity could look like?
Saturn is in Gate 41 – Imagination, what new abundant opportunities would you like to see in your life?  Use your creative imagination to play in the space of possibility.  Get juicy and elevate your vibration to that of "what if this actually works?" or "what else could be possible here?" then go dream, envision and allow all the magic and miracles to flow on in.
Neptune is in Gate 22 – Surrender, are you holding onto any resistance in your body around surrendering into the universal flow of abundance.  Do you trust that you could pursue any and all your passions and be supported no matter what?  That you'll be given what you need in just the right moment?  This is what this gate bring to us.  It asks us to drop all resistance and jump into the flow.  Easier said than done for some.  If you're like come on girl – I challenge you to make a list of all the times universe saved your butt right before it all came crashing down! Read and re-read, then jump into the understanding that something bigger than you has got your back.
Pluto is in Gate 61 – Wonder, can you see purpose in the bigger perspective?  Are you able to get the birds eye view,  flying up and becoming more expansive.  Get out of the details and the how by reconnecting to the child like innocence and a new found confidence in yourself as a way of sustaining your power to create?  Pluto is urging us to transcend our limiting visions.  

If you'd like to receive your FREE human design chart.  Please enter your information below.  All charts are hand pulled with love by me and will be delivered in under 48 hrs.
Want to dive in faster? Getting to know all the juicy details of your chart and all your friends charts?  Then take my human design fundamentals course by clicking the button below.